We Launched Our First Ever Food Court!
Saturday, September 4th saw the One Field Farmers' Market donning a festive air! We invited Home Chefs we knew to take the front court! – and they did..with style! Cooked with wholesome organic ingredients, the Menu included Kombucha, Khimchi, Dahi Papdi Chaat, Samosa Chaat, Idiapppam & Veg Stew, Flower Nan with Methi Chicken, Puran Poli, Mutton Biryani, Dal Vada, Banana Fritters, Cake, Tea & Coffee. The One Field Team added to the list with Buckwheat Crepes ( yes you can do amazing things with Buckwheat – but that's for another story!) served with a choice of coconut- jaggery or apple-cinnamon filling and drizzled with wild organic honey!
Running parallel to the Food Court was a hands-on Pottery Workshop that invited adults and children alike, to make sense and beauty of clay! Dr. Sawini Ghosh who ran the workshop had her hands full, with a steady steam of visitors from morn to eve!


All in all, it was wonderful to meet and engage with families and see them relaxed and 'at home' as they leisurely shopped, ate, chatted with friends and enjoyed the space of having their kids off their hands for a little while as Sawini engaged them in an adventure with clay!
The weather was our friend too – the rain held her distance till 6 that evening and gently came down just as the Food Court was winding up!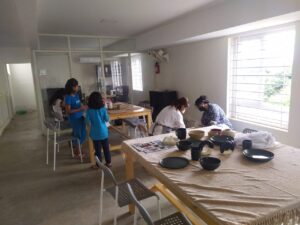 We really loved hosting the Food Court – absolutely loved being a space for 'Community' to happen! We can't wait for the next one! It's just around the corner -a couple of weeks from now! Do plan to drop by! We'd love to meet you there…and whoever you bring along! : )